Our products
---
Our staff will help you find the best fit for your specific needs and explain how different lenses and frames will impact your vision. They will help you narrow down your choices so you can find the look, fit and functionality you want from your eyewear. Our optical offers a large selection of eyeglasses, designer frames and sunglasses. We carry the latest European and American designer eyewear collections in a variety of styles, colors and materials including titanium, stainless steel and plastic.
New clients and all our current patients are welcome to visit our optical with their current prescription – no appointment necessary.
Table of contents:
Eyeglasses Frames | Eyeglass Basics | Sunglasses | Prescription Eyeglasses | Specialty Eyewear | Lens Treatments | Transitions® Lenses | Eyeglass Guide | Advanced Technology
Eyeglass
Are you in the market or mood for a new pair of eyeglasses? The selection is vast, with many fashionable, attractive pairs of glasses to browse through. How can you narrow down your options and choose the style of frames that are best for you?
Questions to Ask Yourself When Choosing Eyewear


Bring your questions to your optician when you pay a visit to the eyeglass store, and most of the work will already be done! Your optician, who is highly skilled and an expert in fitting your eyewear will be able to hone in quickly on the eyeglasses that are most suitable..

How to Judge Fit and Comfort


Research conducted by the eyewear industry indicates that women pay more attention to how eyeglasses appear on their face, while men are more interested in how they feel and fit. Yet even if looks are your primary concern, if your eyeglasses aren't comfortable – you won't be pleased for long.

Is One Pair of Eyeglasses Enough?


Take a look at your closet. You likely own more than one pair of shoes, right? Unless you're on a very tight budget, more than one pair of eyeglasses isn't a luxury. Eyewear is a hip accessory, and the same pair may not be appropriate for all parts of your modern lifestyle. Just like your clothing, your eyeglass needs differ for home, work and social occasions.

If owning a solitary pair is enough for you, then choose frames that you love and feel good about no matter what you're wearing or where you go. These eyeglasses will be on your face constantly, so take your time and pick a style that fits your unique personality and vision requirements.
Women's Eyeglass Frames
Women's eyeglasses have come a long way in the last few decades and in today's eyewear market there is an abundance of options. With constant innovations in style, comfort, and quality, eyeglasses have become as much a fashion accessory as a medical device to improve vision. In addition to all of the optical companies creating eyeglass frames, many of the major designer fashion lines have come to incorporate eyewear into their portfolios as well. So, when it's time for a new pair, where does a woman start?
When you shop at an optical store, the optician is trained to help you select the right pair of frames. This decision should take into consideration your personal style, your lifestyle and your appearance. The right frame will look great with your complexion, coloring and face shape, feel comfortable and suit your needs in terms of flexibility, durability, cost and style.
The best way to make the shopping process a success is to have some ideas of what you want before you go in. This will help the optician narrow down the options. Here are some questions to ask yourself in advance of your visit to the optician:
What shape eyewear looks good with my facial structure? If you currently have eyeglasses, do you want a similar shape?
What color eyewear compliments my complexion? What colors do I like? What colors are predominant in my wardrobe?
What style do I prefer? Modern or retro? Classic or contemporary?
Where do I wear my frames in general? To work, out on the town?
Do I play sports or engage in activities that would require durable glasses?
Do I have young kids that might pull my glasses off?
How much am I willing to spend on my eyeglasses?
Do I want to get coatings on my glasses (anti-scratch, anti-glare etc) or consider transition lenses that darken in the sun?
Armed with this information, your optician will have a much easier time assisting you in finding the perfect pair. Once you have narrowed down the options, you want to make sure that the pair you choose fits well and will be comfortable for extended use. You don't want to have any reason not to wear your new eyeglasses! Make sure the frames are the right width for your face – that they don't slide off when you look down or press on your temples or behind your ears. The frames should be snug but not cause any pressure. Also pay attention to whether they fit comfortably across the bridge of the nose. Lastly, make sure that your eyes are completely within the frame where the lenses go so you are not looking over the top of the frame. If you can't find one perfect pair, you can always consider buying a second pair. This way you can mix and match depending on your outfit and your mood.
Designer Frames
We have an extensive selection of eyewear including the latest styles in designer sunglasses and prescription eyeglasses. Here are just some of the lines we offer:
Modern eyewear serves a dual purpose. In addition to being a vision-correcting medical device used to enhance your safety and quality of life, eyeglasses have become a major fashion accessory. Therefore, when it comes to selecting eyeglasses there are many important factors to consider.
The Frame
Frames are made from a large variety of materials ranging from acetates and hard plastics to metals and metal alloys. The quality of frame materials is very high nowadays with many cutting-edge manufacturers investing heavily in developing new innovations and materials to make stronger, more flexible, lighter and more beautiful frames. In considering the optimal material for your eyeglass frame, your lifestyle plays a big role. Children and those with active lifestyles require durable and flexible frames that are resistant to breaks from hits and falls. Those who have skin allergies need to seek out frames made from hypoallergenic materials such as acetate, titanium or stainless steel. Other characteristics of frame materials to consider are the weight or flexibility of the material as well as the price. Many designers also use wood, bone or precious metals to adorn frames and add an extra.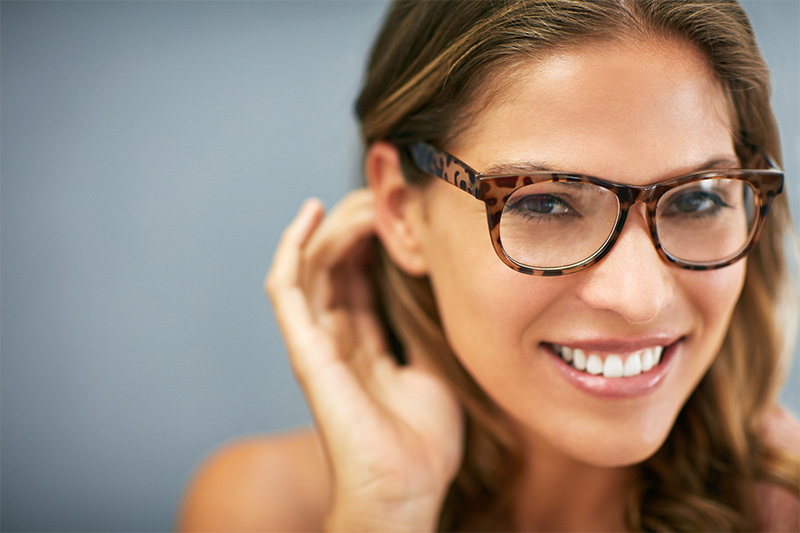 Frame size is a very important factor in frame selection. Frames should fit well and not slip off the nose or be too tight and press against the temples or the sides of the nose. More and more top fashion design brands are coming out with designer eyewear collections to suit every taste and style. Frames come in all colors, sizes and shapes so the choices are endless in finding a frame that suits your personal style and looks good with your face shape and coloring.
Lenses
Even though people spend much more time focusing on frame selection, as a medical device, the lenses of your eyeglasses are the most important part. It is therefore very important that you obtain your lenses (and therefore your glasses) from a reputable source. It is always best to buy eyeglasses through an eye doctor who is able to check that the lenses are made and fitted properly to ensure your best possible vision.
There are a number of variables to consider in selecting lenses:
If you have a high prescription which may require thicker lenses, you may want to ask for aspheric lenses which are thinner than normal lenses.
There are lenses that are made from materials that are more durable and shatter-resistant such as polycarbonate or trivex, which can be useful for children or sports eyewear.
Photochromic lenses can serve as eyeglasses and sunglasses as the lenses darken when exposed to the sunlight to block out the sunlight and UV rays.
Polarized lenses create greater eye comfort by reducing glare specifically from the water or snow and are great for sunglasses for those that spend time outdoors.
There are also a number of coating options that you can add onto lenses to enhance certain characteristics such as anti-reflective coatings, anti-scratch coatings or UV coatings to reduce exposure from the sun. Adding a coating may require special cleaning or treatment so ask your eye doctor or optician about special instructions.
Eyeglasses Over 40
Once you approach age 40 you are likely to begin to experience presbyopia which is the loss of the ability to focus on close objects. This happens as the eye begins to age and can easily be corrected with reading glasses. However, if you already have an eyeglass prescription for distance vision, you will need a solution that enables you to see your best both near and far.
There are a number of options available for presbyopes including bifocals, multifocals and progressive lenses with new technology improving the options all the time. You should speak to your eye doctor about the best solution for your individual needs.
Whether they are for a child's first pair, a second pair of designer frames or a senior with a complicated prescription, you should always consult with your eye doctor for a new pair of glasses. Ultimately, your eyeglasses have a job and that it to help you to see your best to get the most out of every day.
Sunglasses
Whether or not you require vision correction, sunglasses can add an element of comfort and enhanced performance to your activities, while helping you look great.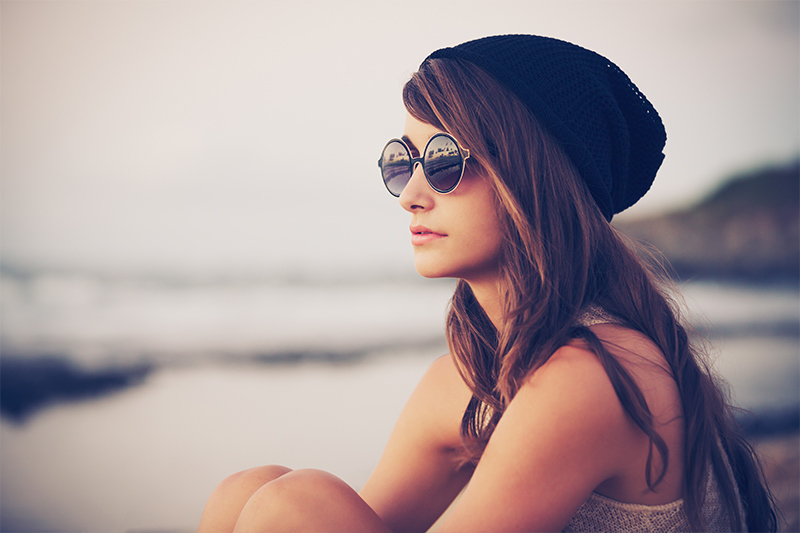 Nonprescription Sunglasses
Everyone should have a good pair of sunglasses. Whether you wear prescription eyeglasses or not, sunglasses are important for every age, race and gender. While sunglasses may be considered a must-have fashion accessory, even more importantly, they play a critical role in protecting your eyes from UV (ultraviolet) and other harmful radiation from the sun. They also shield your eyes from wind, dust and debris that could cause discomfort, dryness or damage.
Sunglasses should be worn in the winter as well as the summer and should be 100% UV blocking. This doesn't mean that you have to pay a fortune for your shades. Even cheaper brands of sunglasses are made these days with full UV protection, so take the extra time to ensure you select ones that do offer full protection from the sun's rays.
Frame Materials


Sunglass frames are made in a wide variety of materials from plastics and acetates, to wood and natural materials to metals, such as aluminum, steel or titanium. Before you select a pair of frames, think about your lifestyle and what type of material will be most suitable for you. If you live an active lifestyle, sturdy and durable frames are a must. If you have sensitive skin, look for a pair made with hypoallergenic material that is light and fits comfortably. Make sure you select a pair that fits well, looks good and properly blocks the sun to ensure that you feel confident and comfortable when you are wearing them.

Sunglasses Shapes


Sunglasses serve as a combination of function and fashion and therefore come in a plethora of shapes and styles. Sunglasses are often larger than eyeglasses to cover more surface area and prevent sunlight from entering around the lenses. While fashion sunglasses are made in all of the latest styles from aviator to cat eyes, round, square and oversized, sports sunglasses are generally more durable and broad, often in wraparound styles that prevent sunlight from entering from the sides as well. Wrap-around frames are a good option for athletes, fishermen and bikers that spend a lot of time outdoors in the sun.

Lenses


Lenses are the most important part of any pair of sunglasses. As mentioned above, all lenses should block 100% UV rays but beyond that there are many options for sunglass lenses. Polycarbonate or trivex lenses are impact-resistant to increase safety during sports and outdoor activities. Polarized lenses help to reduce glare and are particularly helpful during activities on or near the water such as boating, fishing or beaching. Anti-glare and anti-scratch coatings are also beneficial to maintain your best vision in a variety of conditions.

Sunglasses for Prescription Eyeglass Users


If you wear prescription eyeglasses there are a number of options for sun protection. These options include prescription sunglasses, photochromic lenses (which turn from clear lenses to dark when you go outside), clip-ons, fitovers (which are sunglasses that go over your prescription eyewear) or wearing contact lenses with plano (non-prescription) sunglasses. Speak to your optician to determine the best option for you.
Sunglasses for Prescription Eyeglass Users
Sunglasses are an important way to protect your eyes and ensure clear and comfortable vision when you are on the go. In addition to causing temporary vision loss, the sun's bright rays can lead to long term eye damage. Ultraviolet radiation from the sun can also cause sunburns on the eyes and over time, can lead to diseases such as macular degeneration. For those who wear prescription eyeglasses, sun protection is available in a number of options including prescription sunglasses, photochromic lenses or eyeglasses with clip-on sunglass lenses. The best solution depends on your personal preferences, comfort and which option fits in best with your lifestyle.
Prescription sunglasses are available for virtually all vision prescriptions including those for farsightedness, nearsightedness and astigmatism, as well as bifocal and progressive lenses. Almost any pair of sunglasses can be fit with prescription lenses as long as the shape of the lens doesn't distort vision (which happens for example with extremely wide wraparound lenses). Therefore if the latest pair of designer sunglasses catches your eye, there should be no problem in fitting a prescription lens to the frame.
You can also get prescription lenses in most lens materials and with most lens coatings, including polarized lenses (for glare protection), tinted lenses, anti-scratch coatings, polycarbonate or Trivex lenses (for extra durability) and more. Even for those individuals who do wear contact lenses, prescription sunglasses are a fantastic solution when you prefer not to wear your contacts, such as when your eyes feel dry or irritated (during allergy season or in dusty or sandy locations for example), when you are going swimming (it's advised not to wear contact lenses swimming in any body of water due to risk of infection) or when you just don't want to deal with the hassle of contacts. Prescription sunglasses give you yet another option for comfort, safety and great vision.
Photochromic Lenses


Photochromic lenses are another alternative for the prescription eyeglass wearer. These lenses darken in response to sunlight turning your regular prescription eyewear into prescription sunglasses. Photochromic lenses are a convenient solution for glasses wearers who find it a hassle to carry around two pairs of glasses. No matter what shape or style, you can protect your eyes and spruce up your outdoor look or your sports performance with a pair of prescription sunglasses.
Prescription Sunglass Treatments
If you spend a lot of time outdoors or driving in the car, and still need vision correction, prescription sunglasses are perfect for soothing the eyes. Since most prescription sunglasses manufacturers block 100% UV, prescription sunglasses are a healthy way to enjoy the outdoors (especially the beach) and driving using the darkest lenses available to protect against the brightness of the sun.
Polarized sunglasses


For reduced glare and increased clarity in your vision, a pair of polarized sunglasses can't be beat. An invisible filter is built into your lenses—making images appear sharper and clearer while reducing the intensity of the sun's glare. Make sure your polarized sunglasses block 100% UV, and remember that polarized sunglasses are available with or without a prescription.
Performance and Sport Sunglasses
Whether you are out on the field, the golf course, the waves or the mountains, you want your sunglasses to protect your eyes from the sun and enhance your visual experience. Sports and performance sunglasses are more than sun protection, they need to be designed for optimal, fit, comfort, acuity and strength, based on the demands of the sport or leisure activity you pursue.
Lenses


The first consideration when selecting your sports eyewear is the lens. You likely want a lightweight, strong and durable lens that can withstand impact from debris, other athletes, balls or falls. The leading lenses in this arena are polycarbonate or trivex lenses which are made from highly impact resistant plastic that has built-in UV protection.

Frames


When selecting sports sunglass frames, the most important consideration is whether they have a comfortable and secure fit. Look for a pair that is strong and durable, yet lightweight and that doesn't press into your face and cause discomfort at the temples or the bridge of the nose. For some sports like snowboarding, sports goggles might be the best option for the weather conditions and specific nature of the movement. Some frame options come with grips on the nose pads or temples to avoid slippage, particularly when you perspire.
Sunglasses for Kids
Because children spend so much time outdoors in direct sunlight, they need sun protection even more than adults.
Read more
No matter what your eye condition, or how you choose to view the world, there are now prescription lenses that meet your unique lifestyle and vision correction needs. Eyeglass lenses that change as the light changes, from clear indoors to dark outdoors. Bifocal lenses that provide multiple fields of vision. High-index lenses that are thinner and lighter than ever before. And progressive lenses that eliminate the traditional lines of multi-focal lenses. The point is, while eyeglass lenses are prescribed to correct all kinds of vision problems, prescription lenses have come a long way—offering you the opportunity to truly customize your eyeglasses and make a statement about how you choose to look at the world.
Sports, water activities and all types of outdoor recreation depend upon top visual skills. In addition to crisp eyesight, you need excellent depth perception, eye-hand coordination and peripheral awareness. Our optical technicians will match you to the best specialized eyewear for your needs. Whether you play racquetball, go SCUBA diving or spend your leisure time hunting, our eye care team will examine your vision and recommend the most appropriate eyewear.
With consideration for your particular sport or hobby, our eye doctors will customize your eye exam. We may use tests to inspect your vision while in motion outside, or while you're interacting with other objects or players. Computerized exams with 3D, holographic images are very helpful, as well as automated testing that measures your reaction time.
We offer an extensive selection of specialty eyewear, and you may need more than one pair of eyeglasses to suit all of your requirements! In addition to safety glasses for sports, we also feature eyewear to protect your eyes from extended computer use. Driving glasses, designed with polarized lenses to diminish glare, are another popular item. Customized tints are also available to enhance contrast for sharp vision in all weather conditions. If your occupation involves hazardous work, such as using power tools, we have a variety of safety eyewear to recommend. Whatever your sport or hobby, make sure that you are protecting your eyes and achieving optimal performance with the right pair of specialty eyewear. Contact us today to set up a specialty eyewear consultation.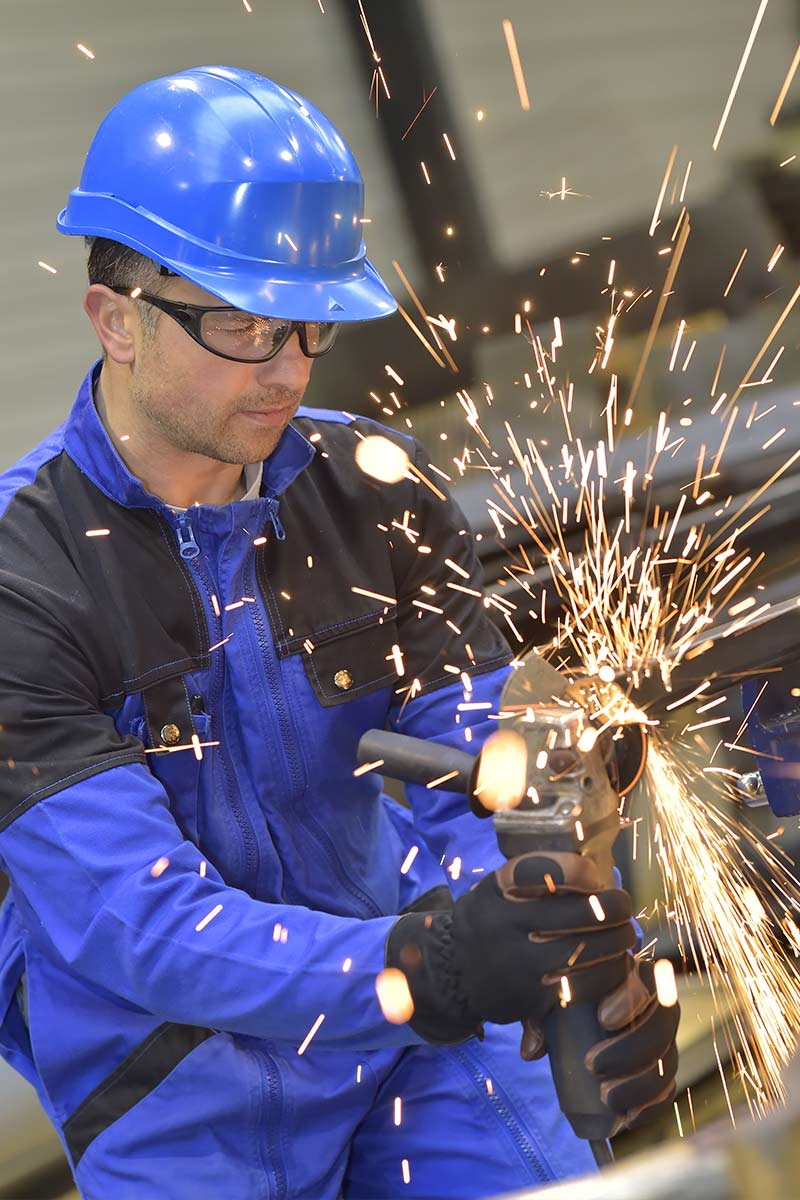 Specialty Eyewear Overview
You may think that you are set with your everyday eyewear, but there are a lot more options than just sun and ophthalmic glasses. Whether it's water sports, a construction job or even working around the home, there are many circumstances which require specialty eyewear to add extra protection, prevent injury, and improve vision and performance. Here is an overview of some of the different types of specialty eyewear to consider.
Safety and Sports Glasses
Nowadays, sports eyewear tells the world that you are a serious player. It doesn't matter whether you bat in Little League or skate with the pros, eye gear for sports offers a long list of benefits. Protective eyewear, such as specialized goggles and wraparound frames with polycarbonate lenses, helps to reduce or eliminate your risk of eye damage. An added bonus is that performance is often enhanced, due to the high quality vision provided from eyewear made for wearing on the playing field. Eye gear for sports is not merely recommended, but now mandated by many clubs. Members are required to wear proper protective eyewear in order to participate in activities. Once upon a time, kids used to cringe at the concept of wearing goggles, but just like bike helmets have become the norm – sports goggles are now accepted as part of the uniform and regarded as ultra-cool.
Eyewear for Swimming, Snorkeling and Scuba Diving
If you need vision correction, participating in swimming and watersports requires an extra bit of planning. You want to see your best both in and out of the water but your regular glasses and contact lenses aren't feasible options. Well the good news is, there are prescription swimming goggles and masks available to provide optimal vision in the water and here is what you need to know about them.
First of all, many people don't know about the dangers of wearing contact lenses in the water. Wearing contact lenses in any kind of water, whether it is an ocean, a pool or even a shower, is risky because bacteria in the water could cause an infection if they get under your lens. Unless you are wearing a mask or goggles that are 100% sealed and don't let any water underneath, wearing contacts in the water is not recommended. If you do decide to wear contact lenses in the water, it is recommended to discard them immediately upon exiting the water.
Prescription Swimming Goggles


A fantastic solution for swimmers is prescription swimming goggles. These are regular swim goggles with either pre-made or a custom made prescriptions lenses. Pre-made lenses will likely not be fit to your exact prescription needs, but if you select them appropriately, they will be adequate for you to see well for swimming and sporting in the water. Custom made goggle lenses will fit your prescription, although they will be slightly different than your regular eyeglass prescription because of the differences in seeing underwater. Whether you are purchasing pre-made or custom made swimming goggles, you should consult with your eye doctor and/or an optician knowledgeable on the topic to make sure you select the optimal lens for your vision needs. If you have astigmatism or another eye condition, you may have additional needs to consider.

Prescription Snorkeling and Scuba Diving Masks


If you scuba dive or snorkel you want to see every detail of the beautiful underwater world. You can achieve this by using a dive mask with a prescription lens. There are a few options for prescription masks. In the first option corrective lenses are bonded or glued to the inside of your mask, creating a second layer. A second option is to purchase a mask in which the entire lens of the mask is replaced with a prescription lens. These can be premade or custom made lenses. There are also now masks that are made with removeable lenses in which you can buy the corrective lens separately and insert it yourself.
Shooting Glasses and Hunting Eyewear
Firearms can be dangerous, and all have some recoil. In addition most shooting occurs outside, where elements such as dust, wind, sun, trees and vegetation can potentially harm eyes. Therefore it's very important to use eye protection at all times when engaged in shooting activities, indoors and outside.
Generally, sports goggles that you can buy without prescription usually protect your eyes if you wear contacts or don't need glasses. These goggles usually wrap around your eyes to form a shield against the elements. Make sure to buy goggles with lenses made of polycarbonate, which is the best and strongest lens material available.
Contacts & Glasses that Enhance Performance
Every sports activity requires a different skill set for success, yet all sports share a critical need for good vision. Geraint Griffiths, a British optometrist, devised a study to determine the effects of visual acuity on sports performance. This study distributed special vision-blurring goggles to Wimbledon tennis players and UK national clay pigeon shooters. Their performance was studied while the goggles were worn. Even though the goggles only blurred their vision a bit, the marksmen and tennis players showed a 25% decrease in accomplishment. This study demonstrated clearly that vision and sports achievement are inextricably linked. Visual clarity isn't the only benefit provided by sports eyewear. There are a number of additional eyewear features that boost athletic performance and enhance eye safety.
A lens treatment is a special additive that either bonds with the lens, or is built into the lens during the lens manufacturing process. Lens treatments are available as individual additions to lenses, and are also commonly bundled into single lens products for convenience and maximum benefit to your eyes.
UV Protection
There is no shortage of information about ultraviolet rays (UV) and how prolonged, unprotected exposure to UV can lead to skin damage. It's why we wear sunscreen when we're in the sun for extended periods of time. Sunscreens offer various degrees of UV protection by filtering out or "blocking" the harmful, invisible UVA and UVB wavelengths of light. But did you know the same, serious approach to protecting your skin also applies to your eyes?
UV protection is critical to eye health
Eye exposure to ultraviolet rays can cause damage your eyes. Over time, UV can contribute to serious age-related eye conditions or diseases. That's why wearing lenses with maximum UV protection is so very important. Because UV rays are always present outdoors—on sunny days, cloudy days and every day in between. Unlike sunscreen that you apply and reapply, eyeglass lenses and sunglasses can have ultraviolet protection built into the lens, or applied as a lens treatment. Remember, although UV is invisible to the human eye, it is always present. Your lenses, therefore, should always provide UV protection. The most important thing you need to know about UV glasses is this: Be certain your eyewear provides near or exactly 100% UV protection against both UVA and UVB rays. Anything less is less than ideal for the short and long-term protection of your healthy sight.
Scratch Resistant
There's no such thing as scratch-proof lenses. (Even glass lenses can be scratched!) Scratches, while not likely to affect your lens performance, are an annoyance that can interfere with clear vision. That's why you should always request scratch resistant lenses (treatment) for your eyeglass lenses. Many of today's lens products have hard scratch-resistant protection built into the lens—a hard surface treatment that is specifically designed to resist scratches. But it's not an automatic feature! Be sure to discuss scratch resistant glasses options with your eye care professional. We put our glasses through a lot from day to day—and our children, even more so. Scratch resistant lenses can go a long way toward minimizing the everyday wear and tear we put on our eyewear.
Lens care for scratch-resistant glasses
Don't forget, no treatment can completely protect eyeglass lenses from scratches. But you can help out! Remember to keep your glasses in a cushioned, sturdy case when not wearing them. Clean them regularly with warm, soapy water and dry them with a clean, soft cloth. With scratches as with life, a little extra care goes a long, long way.
Anti-Reflective
More comfort. Better vision. Reduced glare from oncoming headlights. Greater cosmetic appeal. It might be hard to believe, but anti-reflective lenses can provide all of these benefits—as an add-on for any number of lens products. The same technology used to provide anti-reflective benefits to precision lenses in microscopes and cameras, is now available to enhance your healthy sight.
An anti-reflective treatment applied on the front and the back of prescription lenses greatly reduces the light reflected by the lens surfaces. As a result, your eyes appear clearer behind the lenses, vision is more defined, and glare from reflected objects—especially headlights at night—is virtually eliminated. Plus, if you have a high-powered "strong" prescription, anti-reflective coating makes your eyes appear more natural.
How anti-reflective lenses works
Carefully calibrated layers of metal oxides are applied to the front and the back of the lenses. Each of these layers is designed to block reflected light. That includes glare, annoying reflections, and the hazy "halos" you often see around lights at night. Take special care to use only the cleaning agents recommended by your eye care professional, as anti-reflective treatments are delicate by design. They work well for sunglasses too—but as a general rule should only be applied to the back side of the lens to eliminate glare reflected around the sides of the frame.
Transitions® Lenses are photochromic lenses that are clear until dangerous ultraviolet radiation (UV) is present. Once outdoors, the brighter the sun, the darker Transitions® Lenses become. They turn as dark as sunglasses by automatically reacting to the intensity of UV radiation.
Since Transitions® Lenses block 100% of the sun's eye-damaging rays and help to reduce painful, discomforting glare, they protect your eyes on cloudy days, sunny days, and everything in between. Transitions® Lenses are the most convenient way for you to protect your eyes from the light you can see and the light you can't. All while helping to improve the quality of your vision and the long-term health and well-being of your eyes.
*Transitions is a registered trademark of Transitions Optical, Inc.
Are Transitions® Lenses Right For You?
Indoors, outdoors, day and night—while working, reading, playing or just kicking back with family or friends, your life is unique. And uniquely busy. In a perfect world, your everyday lenses would help you see better, feel better and look better; all while protecting your eyes day-in and day-out.
Transitions® Lenses are for everybody.
Innovative photochromic technology offers unparalleled lens performance in nearly every lens design and material available today; including shatter-resistant lenses, bifocals, trifocals, progressives, and standard and high index materials. All this, plus the benefits of 100% UVA and UVB protection, glare reduction, and everyday high performance, makes Transitions® Lenses the #1 recommended photochromic lens worldwide! So no matter where you live or what you do—day in and day out—Transitions® Lenses are the ideal everyday prescription eyeglasses for children, adults, and patients with special eye care needs.
Original Transitions Lenses
Transitions® Lenses everyday lenses can help you through your busy day. This dynamic eyewear is designed to be worn indoors and to automatically adapt when outdoors to give you a more comfortable viewing experience while protecting your eyes from damaging UV light.
Original Transitions lenses are designed to meet the needs of the majority of those who appreciate the value of eyewear offering adaptive lens technology. With the widest variety of lens designs and materials to choose from, original Transitions lenses quickly adapt between indoor and outdoor conditions, offering a distinct advantage over ordinary clear lenses.
Changes from clear indoors to dark outdoors
Clear as an ordinary clear lens indoors and at night
Blocks 100% of the sun's harmful UVA & UVB rays
Available in Gray or Brown
Compatible with leading frame brands and styles
Transitions® Lenses XTRActive
Features include: Slight indoor tint, darkest everyday Transitions® Lenses for those who spend most of the day outdoors, moderate tint behind the windshield to provide some comfort while driving.
If you spend more of your day outdoors than indoors or enjoy a lens with a slight tint indoors, then Transitions® Lenses XTRActive™ lenses may be right for you. Transitions® Lenses XTRActive lenses are the darkest everyday photochromic lens–even in warm weather—and have a moderate tint behind the windshield.
Lenses change from light tint indoors to very dark outdoors
Designed for those who spend most of their day outdoors
The darkest everyday Transitions® Lenses available – even in warm weather
Moderate tint behind the windshield
Blocks 100% of the sun's harmful UVA & UVB rays
Available for most frames and with non-glare treatments
Transitions Lenses Video
See Transitions® Lenses in a whole new light! There are now two distinct families of lenses for the comfort, convenience and UV protection that best fit your lifestyle.
Transitions® SOLFX Sunwear Products
Transitions® Lenses SOLFX™ performance sun lenses are specifically designed for outdoor activities to help enhance visual performance. Crafted with functionality in mind, Transitions® Lenses SOLFX lenses automatically adjust to optimize lens color and darkness in changing outdoor lighting conditions.
Transitions® Lenses SOLFX sun lenses are high-performance sunwear specifically designed for outdoor use. Traditional sunwear remains the same level of darkness regardless of the level of sunlight. This is why in certain situations some sunglasses can seem too dark, while other situations the same pair may not seem dark enough. Transitions® Lenses SOLFX sun lenses self-adjust, changing the level of darkness with the changing amount of sunlight so you can see better, look great and perform at your best.
Sun lenses that adjust from dark to darker depending on the sun
Offers a variety of colors and tint ranges by outdoor need
Multiple unique product offerings designed for specific outdoor activities.
Blocks 100% of sun's harmful UVA & UVB rays
Compatible with many frame brands and styles to create custom look
Available in prescription and non-prescription
Visit our interactive on-line tool and we'll guide you through a series of questions about you, your lifestyle and your specific eyewear needs. As you answer, you'll notice the background photos changing as well as the lenses and the glasses on the lower right. You'll also get to view brief information videos about specific products that might be of interest. At the end, you'll receive eyewear suggestions specifically tailored to meet your needs and designed to help you really click with your eye care professional – your ultimate EyeGlass Guide.
Read more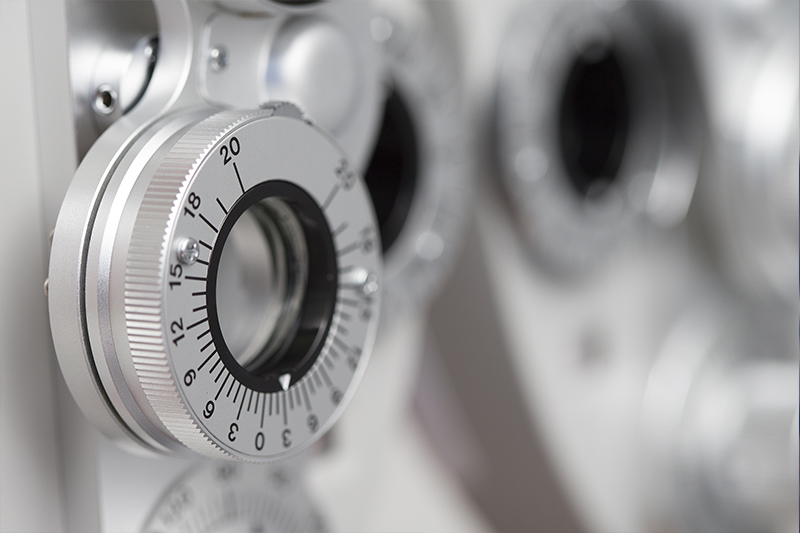 We use the most up-to-date technology to ensure the best eye care possible. Here are some of the different types of tests and equipment you may experience on a visit to our Practice.
Digital Retinal Imaging & OCT Scans
We use cutting-edge digital imaging technology to assess your eyes. Many eye diseases, if detected at an early stage, can be treated successfully without total loss of vision. Your retinal Images will be stored electronically. This gives the eye doctor a permanent record of the condition and state of your retina. This is very important in assisting your Optometrist to detect and measure any changes to your retina each time you get your eyes examined, as many eye conditions, such as glaucoma, diabetic retinopathy and macular degeneration are diagnosed by detecting changes over time.
The advantages of digital imaging include:
Quick, safe, non-invasive and painless
Provides detailed images of your retina and sub-surface of your eyes
Provides instant, direct imaging of the form and structure of eye tissue
Image resolution is extremely high quality
Uses eye-safe near-infra-red light
No patient prep required
Digital Retinal Imaging
Digital Retinal Imaging allows your eye doctor to evaluate the health of the back of your eye, the retina. It is critical to confirm the health of the retina, optic nerve and other retinal structures. The digital camera snaps a high-resolution digital picture of your retina. This picture clearly shows the health of your eyes and is used as a baseline to track any changes in your eyes in future eye examinations.
Optical Coherence Tomography (OCT)
An Optical Coherence Tomography scan (commonly referred to as an OCT scan) is the latest advancement in imaging technology. Similar to ultrasound, this diagnostic technique employs light rather than sound waves to achieve higher resolution pictures of the structural layers of the back of the eye. A scanning laser used to analyze the layers of the retina and optic nerve for any signs of eye disease, similar to an CT scan of the eye. It works using light without radiation, and is essential for early diagnosis of glaucoma, macular degeneration and diabetic retinal disease.
With an OCT scan, doctors are provided with color-coded, cross-sectional images of the retina. These detailed images are revolutionizing early detection and treatment of eye conditions such as wet and dry age-related macular degeneration, glaucoma, retinal detachment and diabetic retinopathy.
An OCT scan is a noninvasive, painless test. It is performed in about 10 minutes right in our office. Feel free to contact our office to inquire about an OCT at your next appointment.
Visual Field Testing
A visual field test measures the range of your peripheral or "side" vision to assess whether you have any blind spots (scotomas), peripheral vision loss or visual field abnormalities. It is a straightforward and painless test that does not involve eye drops but does involve the patient's ability to understand and follow instructions.
An initial visual field screening can be carried out by the optometrist by asking you to keep your gaze fixed on a central object, covering one eye and having you describe what you see at the periphery of your field of view. For a more comprehensive assessment, special equipment might be used to test your visual field. In one such test, you place your chin on a chin rest and look ahead. Lights are flashed on, and you have to press a button whenever you see the light. The lights are bright or dim at different stages of the test. Some of the flashes are purely to check you are concentrating. Each eye is tested separately and the entire test takes 15-45 minutes. These machines can create a computerized map out your visual field to identify if and where you have any deficiencies.